Phones for the Planet is a circular economy initiative to reduce toxic e-waste, help protect critical habitat for animals, decrease the production of unnecessary new electronic devices, and bridge the digital divide.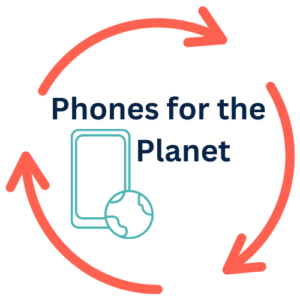 We support groups and organizations to launch collection drives to  protect people and the planet.
The Challenge
The mining of key smartphone minerals is associated with poor labor conditions, human rights abuses, and environmental degradation.
Develop the pipeline for device repair, refurbishing, and resale.
Reduce the demand for key minerals, often mined in problematic ways.
Reduce the improper disposal of unwanted devices.
Bridget the digital divide for young learners. 
Our Solution
We partner with schools and community groups in the U.S. to initiate "Phones for the Planet" drives to collect unwanted devices.
We partner with businesses that identify flourishing markets for used devices, extending their life-span and reducing future demand.
We donate devices to underserved schools and communities to be used to support 21st century learning.
Proceeds from the program help us train thousands of environmental leaders to drive change across nearly 100 countries each year.
Steps for starting your own cell phone collection drive:
Register below. Once registered, we'll reach out with materials, assistance and motivation when you need it.

Design a collection box, distribute flyers, or create social media posts to promote your conservation efforts. See below for downloadable printables.

Start collecting! 

When your box is filled, send us the box weight and return address. We will provide a free shipping label to send phones directly to us for recycling.